Making the Most of the Modified Barium Swallow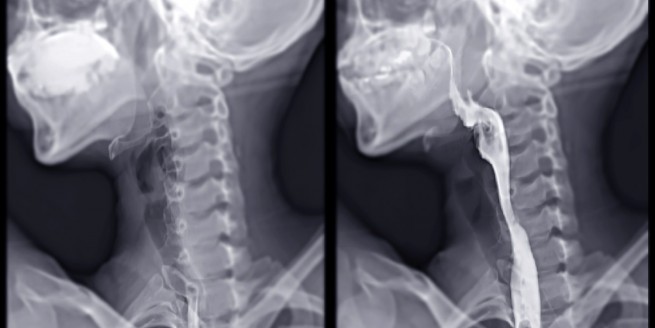 *Registration payment includes Credit Cards and Interfund Transfers ONLY.
Target Audience
Speech Language Pathologists
Description
Modified Barium Swallow Studies are the cornerstone of many swallowing assessment plans and often considered the "gold standard" in swallowing assessment. How often do clinicians delve into the logistics of what we actually do in the fluoro suite, how we perform these studies, and ponder how to improve our skills? Whether you're a new clinician or have performed thousands of Modified Barium Swallow Studies in your career, you will surely find something to streamline, broaden, and improve your clinical practice through Making the Most of the Modified Barium Swallow. We will explore topics such as radiation safety, fluoroscopic contrasts, standardized assessment tools, modifications for unique patient populations, improving your clinical efficacy and efficiency, and interesting case studies.

Date/Time
This is an in-person event.
8:00 am - 5:00 pm
Registration/Check-In: 7:30am
Must attend the entire live event to receive credit.
(Lunch will be provided)

South Piedmont AHEC
Center for Learning and Development
5039 Airport Center Parkway
Building K
Charlotte, NC 28208-5885

Registration Fees:
Pre-registration fee ending 11:59pm 2/23/2024: $195.00
Registration Fee starting 12:00am 2/24/2024: $210.00
Full-Time Student Fee: $100.00

Presenter:
Diane Meadows, M.S. CCC-SLP, BCS-S has degrees from the University of Virginia and UNC Chapel Hill. She began her career as part of the acute care speech pathology team at Novant Health Presbyterian Medical Center in Charlotte NC. Diane performs FEES and is a registered 10 year MBSImP clinician. She has provided patient care in the acute care, inpatient rehab, and outpatient settings over the past 18 years. Beginning in 2013, Diane began pursuing further specialty training in Head and Neck Cancer, including management of chemo-radiation and surgical patients, including laryngectomy. Since that time, she has been involved in establishing Radiation Oncology dysphagia pathways at Novant and now splits her time between acute care and outpatient clinic management of head and neck cancer patients, specializing in dysphagia and trismus. She became a Board Certified Specialist in Swallowing and Swallowing Disorders in 2019. Diane founded the Charlotte Area SLP Journal Club, facilitates the Novant Health SLP Head and Neck Cancer Best Practice Committee, and is the chair of the NCSHLA Healthcare Committee.

Disclosures
Financial: Received a speaking fee from South Piedmont AHEC for Making the Most of the Modified Barium Swallow and receives a salary from Novant Health.
Non-financial: No relevant nonfinancial relationship exists.

Continuing Education Credits include:
ASHA Credit Information



ASHA CE Provider approval and use of the Brand Block does not imply endorsement of course content, specific products or clinical procedures.

(You MUST attend the entire training to receive credit)

Cancellation Policy:
Cancellations must be in writing (fax, email, or mail).
Registrants cancelling between two weeks and two full business days prior to the first day of the event are "refunded at 70% of the registration fee subject to a minimum $25 cancellation fee."
No refunds or credits will be given for cancellations received less than two full business days prior to the event.
Cancellations greater than 2 weeks prior to the event will receive 100% refund.
No vouchers will be issued in lieu of a refund.
Transfers/substitute(s) welcome (notify in advance of the program)

Registering for and attending a South Piedmont AHEC program authorizes South Piedmont AHEC to take audio, video, and/or still images to be used for promotional and educational purposes. If you have concerns, please speak with a South Piedmont AHEC team member.
Objectives
Name strategies and novel approaches to reduce clinician radiation exposure while performing Modified Barium Swallow Studies.
List advantages and disadvantages of standardized assessment tools for Modified Barium Swallow Studies.
Discuss unique considerations for performing MBS in particular patient populations, including various neurological, oncological, and surgical diagnoses.
Sessions
Mar 16, 2024
8:00 AM - 5:00 PM
Status

Open

Presenter(s)

Diane Meadows

Date(s)

Mar 16, 2024

Time

8:00 AM - 5:00 PM

Check-In Time

8:00 AM

Credit

0.80 - ASHA CEU
0.80 - CEU
8.00 - Contact Hours

Location

Room

Classroom 17/18