About AHEC Scholars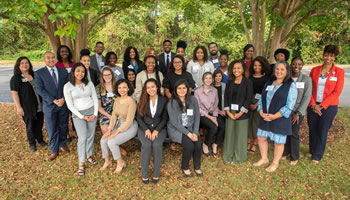 As part of the NC AHEC Scholars program, the South Piedmont AHEC Scholars Program recruits, trains, and supports a diverse group of students enrolled in health professions programs across an 8 county region (Anson, Cabarrus, Cleveland, Gaston, Lincoln, Mecklenburg, Stanly, Union) in North Carolina. Together these students create an interdisciplinary team of health professionals devoted to the transformation of health care in North Carolina. We seek individuals who are committed to improving health and health care, devoted to community service, and interested in improving their own skills and in working with other professionals in team-based care.
With an emphasis on underrepresented minorities, rural, and first-generation college students, the South Piedmont AHEC Scholars Program aims to improve the diversity and distribution of all health professions and support health systems transformation across the state. Each class of South Piedmont AHEC Scholars represents a variety of health professions and institutions across the South Piedmont AHEC Region.
Selected applicants participate in a 2-year educational program and may receive an $2,000 travel expense subsidy ($1,000 per year, subject to academic or institutional approval). Each AHEC Scholar will receive a NC AHEC Scholars Certificate, setting them apart from other students in an increasingly competitive environment. Selected scholars will meet students and faculty from academic institutions throughout the region and state. Scholars will be a part of a network of healthcare leaders and students, creating an invaluable opportunity to expand their network and support future career goals.
Scholars will participate in both experiential and didactic learning opportunities that will explore topics such as:
Interprofessional Education
Behavioral Health Integration
Connecting Communities and Supporting Health Professionals
Virtual Learning and Telehealth
Social Determinants of Health
Cultural Competency
Practice Transformation
Current and Emerging Health Issues