South Piedmont AHEC Practice Support Resources
NC AHEC Practice Support Tip Sheets
The Practice Support Tip Sheet collection provides access available resources related to COVID-19, Medicaid Managed Care, Medicaid EHR Incentive Program, QPP /MIPS, telehealth, and others.
Register for Webinars and Trainings of Interest!
South Piedmont AHEC Practice Support Newsletter
2023
2022
South Piedmont AHEC Practice Support Listserv
The South Piedmont AHEC Listserv is an opportunity to connect directly with your Practice Support team and other practices in the South Piedmont AHEC eight county region. We invite all types of questions including questions around workflow, process improvement, billing/coding, PCMH, ERH's, payors, etc.
To access the South Piedmont AHEC listserv – click here.
To email other members of the listserv, send a message to: charlotteahecpracticesupport@gaggle.email
Hiring Toolkit for Medical Practices in North Carolina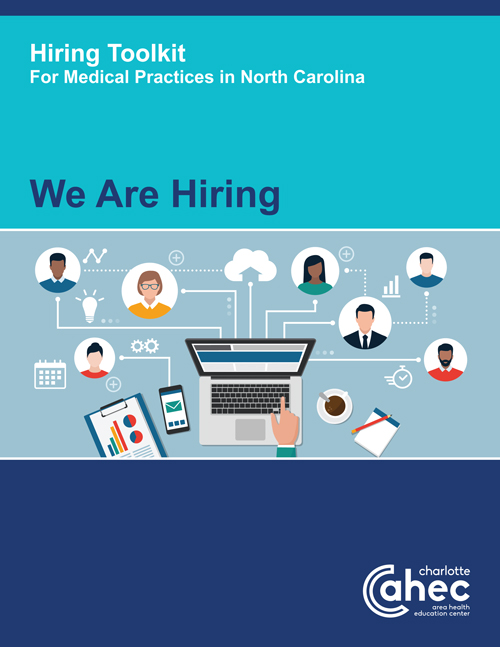 HEC Talk Podcast Series!
The South Piedmont AHEC Practice Support Team has developed a series of on-demand podcasts. These podcasts share best-practice tools and tips helpful to today's primary and specialty care providers participating in Patient Centered Medical Home recognition, Quality Payment Program reporting, and other incentive programs.
Subscribe to the 'HEC Talks On Demand' podcast on your favorite listening platform, as we will continually add more dynamic content. The podcasts are currently available on iTunes, Google Play Store, and Podbean.
Clinical Observation Recruitment for South Piedmont AHEC Scholars
Have you ever stopped to think about the next generation of healthcare professionals? Do you want to pass on invaluable knowledge that they may need for the future? Here's your opportunity - let them learn from the best! We would like for a few committed practices to host South Piedmont AHEC Scholars, giving them the chance to observe in many areas. The best part – we are flexible and can work around your clinic's schedule. Click Here for additional information.